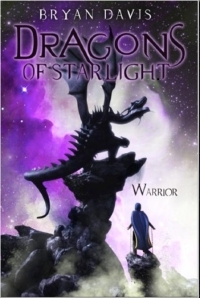 Warrior
by Bryan Davis is the second book in Bryan Davis's latest series, Dragons of Starlight. You can see my review for the first book
here
, and my review for the first book in the adult accompanying series
here
. In the second book, the complex stories of Starlighter and Darksphere begins to merge as Jason, our hero from the last book from Darksphere, and Koren, the heroine of Starlighter, begin to discover more about their worlds' past. The prophesied dragon king finally hatches and begins to force Koren into submission, confusing her whether love can be found from bondage or love must be without chains. Elyssa and Wallace continue on their own journey to find Jason and rescue the cattle children, but they soon discover the secrets Starlighter has held for so long. Meanwhile of Darksphere, Randall and Tibalt find themselves in the company of dragons from Starlighter, who want to raise an army to defeat the new dragon king.
Mr. Davis's tales are famous for being very complex and immersing the reader into totally new worlds. This is true for Warrior. It has been some time since I've read Starlighter, but I had no trouble picking up the story from where I left off. This intriguing tale of humans enslaved by dragons continues to make my curious factor escalate to the point of just eating the words up. Readers will never find a dull moment. Not only does this story make for a fun, fast-paced read, but the author also makes the reader think. I saw themes of God's sovereignty and discerning right from wrong when everything seems to be painted grey. I can't wait for the next adventure.
I found one very interesting and somewhat unsettling element in this book. Some characters have the ability to live on as spirits after they die, living somewhat as ghosts. The "spirits", as they are called in the book, shimmer and move about undetected. Although the are concentrated in the Northlands of the story, one of these spirits is able to move around Starlighter and even journey to Darksphere. This same character has the ability to indwell Jason, speaking to him through his mind, though she cannot hear his thoughts.
All in all, I rate this book four out of five stars.
Specifics (from amazon.com):
Paperback: 432 pages
Publisher: Zondervan (January 17, 2011)
Dimensions: 8.3 x 5.4 x 1.2 inches
Note: Thanks to the publisher for providing me with a free copy of the book for reviewing purposes.
Blessings,