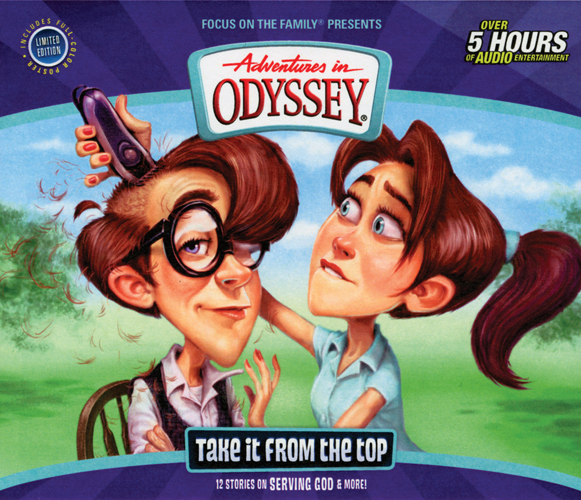 Take It From the Top, Album 51, by the Adventures in Odyssey Team is the latest addition to the Christian audio adventures. Long time fans will enjoy the new adventures while new fans will find that they have no problem getting to know the citizens of Odyssey. Many new families and characters have been added to the adventures, but the familiar classic characters like Connie, Whit, and Eugene, are still around.
This album is full of good lessons like responsibility, perseverance, and storing up treasures in Heaven, with laughs, fun, and history in nine episodes.
The Inspiration Station: Connie tries out Whit's new invention and finds out that she's spending a bit too much time there, while Matthew feels guilty for tinkering with other people's things.
Clutter: The Parker family finally decides to clean up their house for a garage sale, but they find that it's a bit difficult to let go of everything.
Game for a Mystery: The new Jones & Parker Detective Agency is on the case! Emily Parker's brother Barret can't stop playing his favorite video game when his dad want him to trim the hedge. While procrastinating, his game disappears!
Target of the Week: Matthew is the school bully's "Target of the Week", but he's determined not to let the bully get the best of him. He's ready for revenge, but revenge sweet or will Matthew get into even more trouble?
For the Birds: Camilla want a puppy more than anything, but can she prove it to her parents by taking care of a baby bird? And why is Eugene wanting to shave his head?
When You're Right, You're Right: Emily decides to play matchmaking when she sees her brother with a girl. What she comes up with is a hilarious disaster.
Grandma's Visit: The Parkers are all shocked when their Grandmother comes for a visit with the news of their aunt's marriage... at their house! What ensues is an overpacked house, meetings in the bathroom, and... a mariachi band?
Finish What You...: Olivia Parker is determined to prove her dad wrong and stick to an activity, but she soon bites off more than she can chew. Can she learn to handle her time?
The Jubilee Singers: A talking portrait tells Olivia the tale of African American students in their quest to save their college by singing.
I totally enjoyed listening to these episodes. My favorites were The Jubilee Singers, When You're Right, You're Right, and Grandma's Visit. Old fans will notice the change of Whit's, as a new actor has inherited the role and his overall "look" has changed. One cannot expect the voice to be exactly the same, but I must admit the new Whit (not just the voice) is a bit disappointing, which is why I give this album four stars out of five.
However, I just love the way the people at Adventures in Odyssey make the Bible seem so alive and practical to children, teens, and adults! They've done wonderfully with the stories... I can't wait for more!
Note: This album was provided freely to me by Tyndale publishers
God Bless,