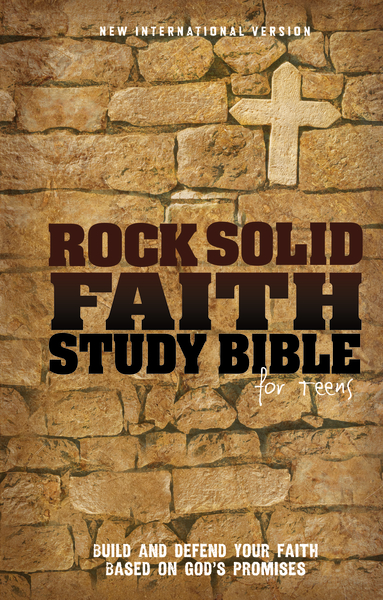 Brief description: Rock Solid Faith Study Bible for Teens is one of the latest teen Bibles from Zondervan. It is in the NIV format, and contains additional content to help keep a teen's faith strong.
Provided description (not mine): This all-new, full-featured NIV Bible is great for teens looking to grow their faith, increase meaning in their lives, and find hope for their future. The Rock Solid Bible for Teens is a timely guide for teens grappling with big questions about the world, their future, and their faith. Featuring the complete New International Version text, apologetics helps, hundreds of call-outs, and concrete promises for the future, the Rock Solid Bible provides firm traction for the development of beliefs and behavior rooted in the unchanging love, guidance, and promises of God.
Only recently have I really delved into and explored study Bibles. Many of them are rich in content, and this is one of them. There are several features that are interspersed in the pages. These sections include: Truths, Principles, Promises, Plans, People, and God. Rock solid Truths explore what Christianity is and how it differs from other religions. Rock solid Principles help make topics in the Bible relevant to teen readers. Rock solid Promises describe what God has promised believers, but also addresses what God has not promised. Rock solid Plans addresses one of the biggest worries of teens: what's the future going to be like? Unshaken people highlights some of the the strong people of God in the Bible. And the last topic Unshaken God, explores who God is and His attributes. Some of the topics addressed often are in story form. Fictional examples relating to the topic are useful to see how it relates to life and in a way not to feel unique in struggles. Many teens will be able to relate to the material presented.
Aesthetically, the hardback cover is great, the Bible is easy to navigate through, and I loved the additional material at the end. I've always loved maps and visualizing where the events of the Bible occurred.
This is my first time to review a Bible, and as it is a Bible, I will not be rating it.
Because of the additional material and content, I do recommend this study Bible to teens.
Note: thanks to B&B Media Group, Inc. for providing me with a copy of this Bible for reviewing purposes.
Blessings,
~Prism~