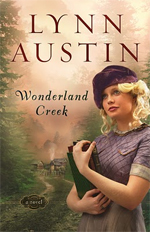 Wonderland Creek
by Lynn Austin is the Great Depression - era novel of a girl who discovers the vibrancy of life after leaving a life lived in the realm of fiction books. Alice Grace Ripley has lived in a dream world for a long time. Long enough to not realize that her need to read has become more and more like an addiction, causing her to disregard her boyfriend and best friend. When she gets a reality check and her boyfriend decides to break up with her because of her obsession, Alice is left crushed. She also loses her job at the library after cutbacks must be made to alleviate the affects of the Great Depression on the library. Finding her life almost meaningless now, Alice decides to put her efforts into something good, delivering donated books to a rural town in Kentucky named Acorn.
Alice travels from Illinois to Kentucky with her relatives, and she is dropped off, excited at the prospect of helping people get the books they want and staying with the librarian, Leslie McDougal. However, the librarian is anything but what she expected and Alice is soon thrust into a strange world of poverty, joy, family drama, love, corruption, faith, crime, and danger. Alice soon discovers the life she has been missing out on all of her life, and discovers that true life is much better than any story book.
I absolutely loved this book. In fact, Wonderland Creek is now on my favorite's list. Alice, or Allie, is such an endearing character. There were genuinely funny moments (I rarely laugh out loud while reading, but in this book, I did!), scary moments, dramatic moments, and romantic moments. This book was a perfect blend of history and fiction. My favorite character was an old woman Alice meets while in Acorn. She's kind of like the catalyst that forces Alice to face reality and be bold. She also encourages Alice's faith and was such a joy to read about. I wish she were a real person!
All in all, I rate this book five out of five stars.
Specifics (from
amazon.com
) :
~Paperback: 400 pages
~Publisher: Bethany House (October 1, 2011)
Note: Thanks to the publisher for providing me with a free copy of this book for reviewing purposes.
Blessings,