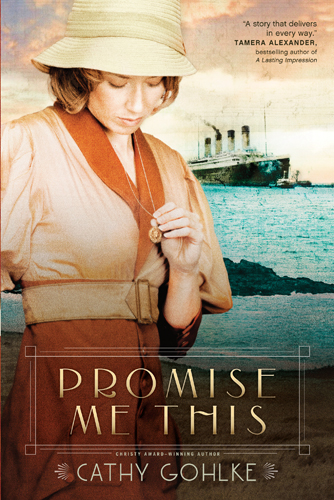 Promise Me This
by Cathy Gohlke is a historical fiction book about the voyage of the
Titanic
and the story of the three lives that were deeply affected due to the tragedy.
Owen Allen is determined to make a new life for himself and his sister in America, away from their controlling and manipulative aunt. With the seeds in hand to plant a new life (literally), Owen embarks on the
Titanic
, leaving his little sister, Annie, behind. Michael Dunnagan is a young orphan who wants desperately to escape the life of poverty, orphanhood, and abuse he has known so long. One day, he meets a young gardener, Owen, who shows unexpected kindness towards Michael and shows him that there's hope for a better life. Annie Allen is a lonely, petulant girl who is deeply annoyed with her brother's newfound friendship with Michael, and she is quick to tell her brother of her negative opinions, much to his dismay.
When the Titanic sinks and lives are lost, Michael finds himself alone and feels undeserving of Owen's sacrificial gift to him. Yet Owen's gift results in the inexplicable entwining of two lives- Annie's and Michael's. Michael is now determined to fulfill Owen's dreams and bring Annie to safety in America. By corresponding through letters, Michael is able to help Annie heal from the pain and anger of Owen's death, and their letters soon lead to something more. Soon, Owen is able to bring Annie to America with the funds he so painstakingly earned. However, an evil aunt, an ocean, and the beginning of a world war separates any communication, and Annie's letters no longer come. Desperate to find her, Owen risks his life to find the woman he loves.... but at what cost?
Simply stunning. This book is one of my all-time favorites. When I finished the last page and slowly shut the book, I could only say, "Wow." This story is so poignant, so beautifully written to express deep emotions and vivid images of the story as it progresses. I felt as if I were viewing a movie with this book, everything was so vivid. I enjoyed growing up with the characters. We see them develop from childhood to adulthood and overcome their personal issues. The challenge and beauty of a well-written historical novel is that it must be well-written, historically accurate, and enjoyable. This book is all three. I was hooked from page one until the end.
I rate this book five out of five stars.
Specifics (from amazon.com):
Paperback: 416 pages
Publisher: Tyndale House Publishers (January 20, 2012)
Author website:
http://www.cathygohlke.com
Publisher website: tyndale.com
Note: Thanks to the publisher for a free copy of this book for reviewing purposes.
Blessings,